Customer Reviews
Write a Review
Ask a Question
Filter Reviews:
service
weight
realism
shots
delivery
recoil
targets
action
hand
paintballs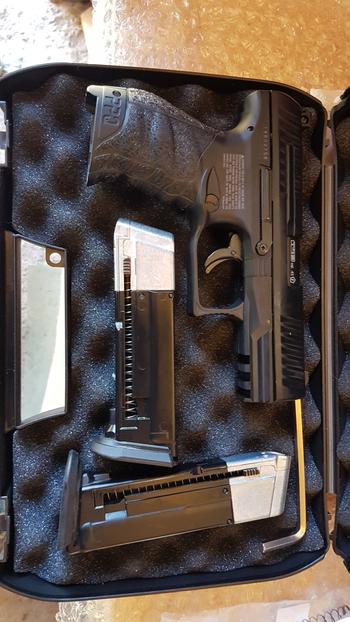 24/05/2019
Walther PPQ
Great pistol lots of fun shooting blue paintballs and powderballs really seem to dust off targets. Not used in paintball but for fun target shooting and practical shooting wise great realism and fun - well worth ordering spare mag and keeping mag spring slider lubed with drop of silicone oil. Seems low maintenance thus far and barrel breaks quickly cleaned with provided pull through. 4 mags full (32 shots) without any slide issues and upto another x2 to x4 mags out of a Co2 cart with slide assistance as & when fails to slide. Highly recommended and great service MCS.
04/09/2020
Great realism!
I haven't had time to fire it up yet, but it certainly looks the business! I'll be using it mostly for fun "plinking" and as a film prop, if needed.
Paul B.
United Kingdom
09/07/2020
Umarex Walther PPQ .43 T4E Pistol
What a superb piece of kit! Action, feel, weight and appearance completely similar to the real thing, thus giving full benefit from use for training. Accurate, suitable for mounting a laser designator, and sites adjustable if required. Fires reliably, recoil and magazine change allow realistic scenario training.
Martin S.
United Kingdom